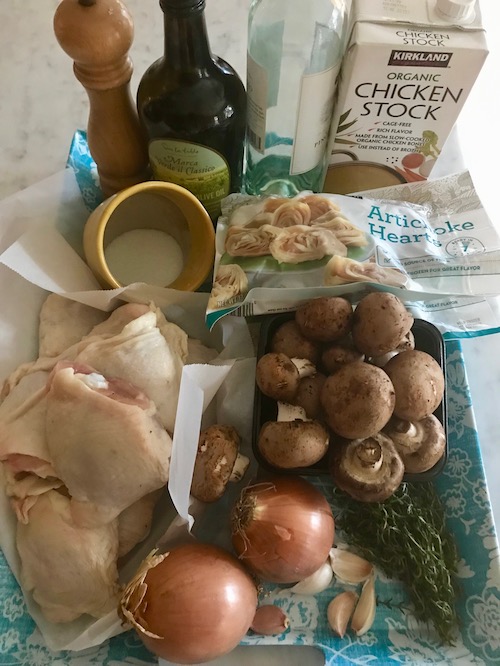 ½ cup olive oil
salt and black pepper
8-10 chicken thighs, bone in
2 medium onions, finely diced
1 pound mushrooms, washed and finely sliced
3 cloves garlic, crushed
16 oz. frozen artichoke hearts, defrosted
4-5 sprigs fresh thyme
1 cup white wine
2 cups chicken stock
2T parsley finely chopped
1. Preheat oven to 325º F.
2. Place a 6-quart Dutch oven with a lid on the stove. Turn heat to medium-high heat. Add ¼ cup of olive oil and heat.
3. Using a paper towel, pat dry the chicken. Season chicken pieces with salt and pepper.
4. Place the seasoned thighs into pan; do not overcrowd the pan. Brown both sides of the chicken, about 3 minutes a side. Once they are browned, remove from the pan. Set on platter and set aside. If necessary, add the remaining ¼ cup olive oil. Repeat with remaining thighs. Pour off all fat except for 2T.
5. Turn heat to medium. Add the onions, and cook until slightly soft, about 4-6 minutes. Add the mushroom and cook another 4-5 minutes.
6. Add the wine and scrape the bottom of the pan to remove all the brown bits. Add the stock and bring to a boil.
7. Place the chicken back into the pot, pushing the thighs down to submerge them in the sauce. Add the garlic, artichokes and thyme.
8. Cover with lid and place in a 325º F oven. Cook the chicken until the meat is tender enough to cut with a fork and easily comes away from the bone, about 45-55 minutes.
9. Remove the chicken and vegetables from the sauce and place on a platter. Discard the thyme and strain the sauce into a fat separator.
10. Pour the defatted sauce back into the pan to reheat and reduce slightly. Season with salt and pepper. Add the chicken and vegetable back into the sauce to reheat.
11. Serve the chicken and sauce over polenta. Top with chopped parsley.
Tips & Tricks:
• Cooking with meat on the bone is ideal for several reasons: It insulates and protects the meat from drying out and also adds loads of flavor.
• I use a clean pair of scissors to trim off any extra large pieces of skin/fat on the thighs before browning.
• To achieve a beautiful browned chicken thigh, make sure to pat them dry, season right before placing in pan and don't overcrowd the pan. This way they brown rather than steam.
• This dish can be made in advance and reheated just before serving either on the stovetop or in oven.
• The flavor in this dish improves as it ages; feel free to make it a day or 2 before serving. It is a great crowd pleaser and easy to double.
• I like to use frozen artichokes instead of canned. They taste fresher to me. If you don't have time to defrost them, its ok just put them directly in the pot.