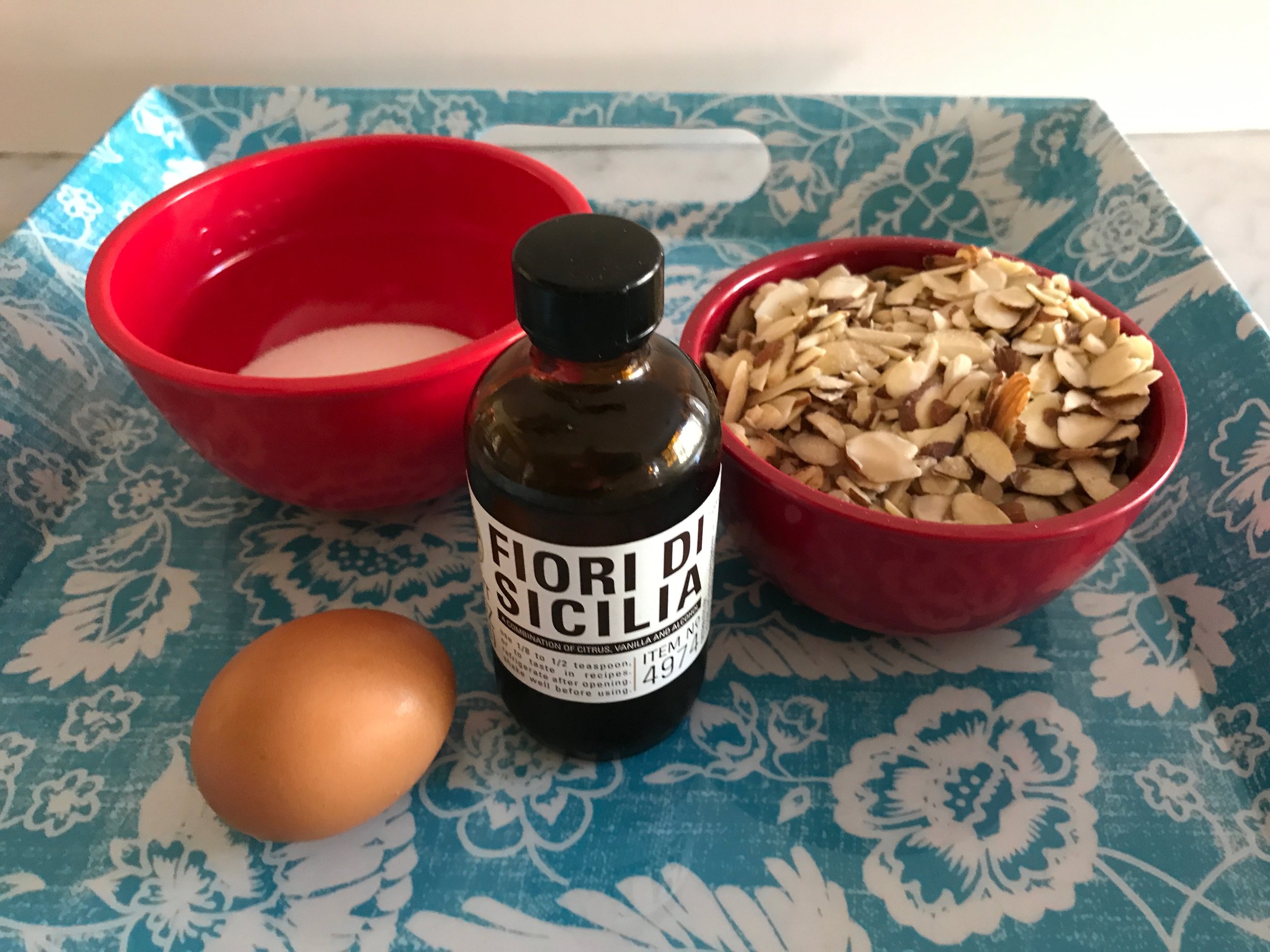 6T-granulated sugar
1 egg
1¼ cup sliced almonds
½ tsp. fiori di Sicilia
1. Preheat oven to 325° F.
2. Line two baking sheets with parchment paper. Set aside.
3. In a medium bowl, beat the egg and sugar until thick and creamy.
4. Add the almonds; mix until combined. Stir in the fiori di Sicilia.
5. The batter will start to separate, so work quickly! If it starts to separate just stir to remix.
6. Scoop 1 heaping teaspoon of the batter for each cookie onto the parchment-lined baking sheet. Space each cookie 2 inches apart.
7. Flatten out cookie with a fork.
8. Bake at 325° F for 20 minutes until golden brown. Let the cookies to cool for 10 minutes before removing from the baking sheet. Transfer to rack and let cool completely before serving.
TIPS & TRICKS
• Fiori di Sicilia, Extract is a combination of citrus and vanilla that is positively addictive. It is very popular in Italian baking. I think it's a must have for all your baking goodies. You can add it to all your baking items that call for vanilla. Just use a ½ tsp. that enough brighten up but not overpower your recipe. It can be purchased at King Arthur. Keep it in your refrigerator and it will last a long time
• Dorie Greenspan's 3 ingredient cookies inspire this recipe. I added the fiori di Sicilia which I think give them a nice a sublime flavor! Try to eat just one!
• I called them snowflakes, because each one is different in shape, like a snowflake.
• If the weather is humid it will make the cookies soften and become a bit soggy. Just place back in a 350° F oven for 6 minutes until crisp again. Store in an air tight container.